ADA CERTIFIED & STANDARD CEDAR PLAYGROUND CHIP INSTALLATION
Blower Truck Safety Surfacing Service on the Eastside
Playground Chips and Safety Surfacing – Greater Eastside Blower Truck Service
ADA Certified Playground Chips
We install Sof Solutions "Sof Fall" – Engineered Wood Fiber Playground Chips.
Sof'Fall is an engineered wood fiber product designed specifically for playgrounds. The wood fiber creates a loose fill surface that "knits" together to form a stable and accessible surface for all children. At 25′ fall height protection, Sof'Fall provides the highest fall protection of any Sof'Solutions product.
Perfect for playgrounds that require the highest rating for protective surfacing:
Bark King is proud to provide installation of this premium product to your home, business, or municipal property; Certified engineered wood fiber that meets the American Standard for Testing and Material ( ASTM) Specifications for impact attenuation and wheelchair accessibility as required by the American Disability Act ( ADA).
Cedar Playground Chips
Our cedar chips are 1″ square, sliver-less pieces of Cedar wood. The Cedar wood is a lighter beige color. They look and smell great !
Cedar chips are great for children's play areas, dog runs, pathways and more. We do not recommend using cedar chips in your flower bed. Cedar play chips are a safe and affordable option. Play chips are not treated, are environmentally safe and can be used in a wide variety of applications.
The Most Experienced Playground
Chip Blowers
Our high tech blower trucks provide the perfect solution for installing playground chips. We have become the trusted blower truck installer of both standard and ADA certified playground chips on the Eastside.
Quick Efficient Installation
Our blower trucks are specifically designed for quick and efficient installations into difficult to reach or otherwise inaccessible areas. Whether a playground is located behind buildings, over fences, inside courtyards or even hundreds of feet from where the truck can be parked, we can easily and proficiently get the job done.
Confident Experience Crew
With our experienced crew playground owners can be confident that the playground chips will be placed in the exact area as needed and to the proper depth necessary to help keep the playground safe for kids out being kids! Playgrounds can be a lot of fun for children of all ages, but they can also be dangerous if there aren't protective measures in place.
Run, Skip and Play With Peace of Mind
One of the most deceptively safe parts of a playground is the surface on which your children run, skip, and jump. If not covered properly, a single wrong step could cause serious injury. Luckily, Bark King Blower Truck Service is here to help. We will quickly become your top choice for a playground chip installation service on the Eastside.
Serving The Greater Eastside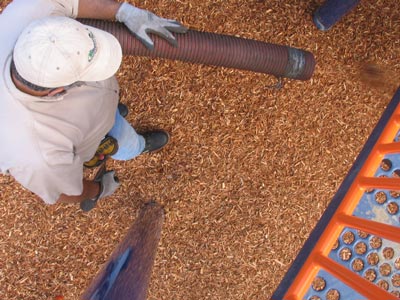 If you're looking for playground chip installation service on the Eastside reach out to Bark King Blower Truck Services today! We look forward to working with you to ensure the safety of every child who uses your playground.
local

425-814-6444
toll free

888-8EZ-BARK
Let's plan your next project
Our office staff is exceptionally knowledgeable and experienced.  We work tirelessly to ensure that the experience our clients have is positive!  Understanding client's needs allows us to provide assistance in selecting the appropriate material.  We schedule jobs in a manner that ensures the entire process goes smooth and deadlines are met.  We understand the unique requirements of individual job sites!